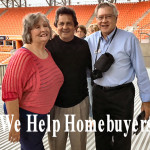 We make the home buying process less stressful by educating, encouraging, and anticipating clients needs.  Finding the right home to purchase for your family has never been easier.
Find out and Meet your Needs
We start by giving you the crime reports, demographics, and school reports for different areas of Houston.  Your family's welfare is an awesome responsibility we take seriously at Man-Edge Properties.  We create a wish list of your needs and the special features you are looking for in your new home.
We help you divide features into categories of what you must have and what you would like to have.
Contact a lender
Buying a home is one of the most stressful financial transactions you will ever undertake.  We will help you set up a prequalification interview with a recommended lender and stay in constant communication with you during this complicated intimidating process.  You will need to get a pre-approval letter or a prequalification letter.
A prequalification or pre-approval letter accomplishes two important things for a buyer.
1.  It allows the buyer to find out how much they are able to borrow.
2.  It shows sellers that you are serious about buying their home.
Appointments and Previewing Homes
The global navigator and ipad or computer have completely changed how we go about scheduling homes.  Depending upon distance I am able to show anywhere from 7 to 17 homes to you during a day.  It takes anywhere from one to two hours to setup the appointments and co-ordinate the showings.  Once the showings are scheduled for the day it is virtually impossible to add additional homes to view at the last minute.
I will go over the homes beforehand and may even preview a few homes in advance to eliminate those homes that do not match your needs.  After seeing so many homes you may want to see some of them a second time.  Family and friends are always welcome to join you in looking at homes.
Home Search
While you are looking at the finer points of the home, I am checking for anything which may cause you to want to eliminate the home.  First, I look at the foundation, then the roof, plumbing, wiring, siding, flooring, neighboring homes, etc.  I am there to protect your interests, not to make a quick commission.  If I say the home is good it will pass an inspection easily.  If there are going to be problems with the inspection you will know before you ever have to pay a dime for the inspection.
Writing the offer & Negotiating
When you have made your decision, I will be there to see it is submitted quickly to the seller.  In today's competitive market the offer cannot be submitted quickly enough.  If need be the offer can be submitted while we are sitting in the house.  The combination of an ipad, docusign, hellosign, and zipform enables me to submit an offer in about 20 minutes from anywhere.
The preferred method is to send you the contract by email.  This allows me to provide you with area comparable sales and property data to help you make an informed decision as to the price to offer, etc.  This simply cannot be done accurately outside the office where we do not have access to the fastest internet service, and main frame computers.
Everyone wants a property priced at what the latest foreclosure sold for.   We will negotiate diligently so you get the best price.  We will review your contract offer and discuss possible concessions to give up in the negotiations to get the best price.   There is no place for ego in negotiations; we are there to see you get the best price.  We will allow the seller's agent to win minor concessions which in truth are meaningless.
Home Inspection
We have a network of preferred vendors for you to choose from if you need assistance.  You will have a reasonable time period for a home inspection that will be coordinated by Man-Edge Properties.  If repair requests are made to the seller we will check to see the repairs are completed according to building code.
Closing
The HUD and Title Commitment will be reviewed for you before the closing to insure accuracy.  The survey will be checked for easements and discrepancies.  At closing I will be by your side checking to see the paperwork is correct.  Key documents will be reviewed before you sign to insure they are correct.   Finally I will have the honor of handing you the keys to your new home.