Ideal Inner Loop Houston Neighborhood
For those in the market for high-end Inner Loop Houston homes for sale, the community of West University is often appealing. Sitting on about two square miles on the Inner Loop, West University Place feels much larger. With much to appeal to the home buyer and a location close to Houston, this community is well worth considering in your search for a Houston-area home.
West University Place Texas Homes For Sale
History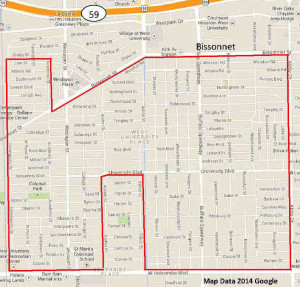 Often referred to as "Houston's Perfect Neighborhood" by locals, West University Place has an interesting history. It was first developed in 1917 by Ben Hooper and got its name from its close proximity to Rice University. The streets, which bear the names of famous authors in many cases, were named by a Rice University English major named Lilly Nicholson in 1920.
West University Place officially incorporated in 1924, allowing it to remain separate from Houston when they tried to consolidate it in the late 1930s. In the late 1980s, the city expanded its development rules, leading to an influx in new, spacious properties and affluent neighborhoods.
What Makes West University Place Special?
West University Place is known for its high quality of life. In fact, in 2011, On Numbers ranked the community has having the highest quality of life in the Southern United States. Those looking for Houston real estate who want a comfortable lifestyle tend to gravitate toward West University Place.
The community has seven parks and community pools that easily rival anything a country club could offer, and this adds to the comfort of living here. You'll easily find the people of West University Place spending time outdoors enjoying their neighbors and their community.
In addition, West University Place is one of the safest communities in the greater Houston area. In fact, it's been said that the police department is so effective that drunk drivers and other criminals won't even drive through the city.
This affluent community of Houston has always seemed bigger than the 2 square miles it occupies.  Buffalo speedway resembles River Oaks Boulevard with its stately homes located on both sides of the street.  West University has seven parks with playground equipment and swimming pools that would be the envy of most country clubs.  The police department is so good that criminals and drunk drivers avoid going thru the city.  The residents of West U as they call their city spend their time outdoors in the parks and visiting with their neighbors.  Long time Houstonians refer to West U as Houston's perfect neighborhood.
West University Place Real Estate
Houston homes for sale in West University Place tend to sell quickly and for a good price because of the benefits of living in this community. If you are looking for a West University realtor, consider experienced realtor Bill Edge. With his help, you will be able to enjoy the benefits of living in this desirable Inner Loop Houston neighborhood, while also giving yourself the edge in the negotiations process.
Because West University Place Realtor Bill Edge knows the Inner Loop intimately, you will be giving yourself the advantage as you start looking for Houston homes for sale. Call Bill today at 713-240-2949 for a no-obligation consultation to learn what you need to know to find your dream home in West U.
Have a question about a property? Want to learn more about West University Place? Ready to tour your favorite homes today? Contact Bill Edge now.