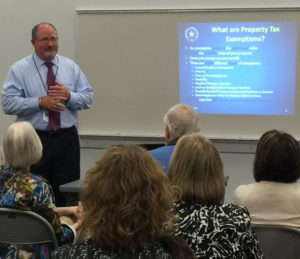 Bill Edge of Man-Edge Properties is the 2017 Vice President of the Houston Independent Real Estate Brokers Association. As a longtime member of this organization I look forward to helping my fellow agents and Houston as a whole. I have served on the Board as an officer before and the experience working with Houston's finest REALTORS® was truly rewarding.
Volunteering with HIREBA and committees of the Houston Association of REALTORS® serves to remind me that we as REALTORS® can make a difference in people's lives. I like to think that the number one trait of a good REALTOR® is caring about people. In our society we so often forget it is not about the money we earn in life but the lives we have made better that makes for a meaningful life.
The Houston Independent Real Estate Brokers Association (HIREBA) functions as a learning center designed to further advance the professional development of the already highly-skilled and experienced broker. The group meets twice a month for a breakfast meeting featuring a speaker. Agents have the opportunity to network with industry professionals from leading real estate brokerages while letting them know about our new listings.
At HIREBA we work tirelessly to educate and solve realtor problems while protecting the public from costly government decisions regarding home ownership. Our members and affiliates are the backbone of the Houston Real Estate Community.
Services HIREBA offers it's members:
• Legal updates
• Houston Market updates
• Multiple Listing Service updates
• Technology news
• Legislative updates
• Governmental updates
• Continuing Education courses
o Legal
o Ethics
o Property Management
o Technology
o Photography
o Computer Fraud
The REALTOR® membership of HIREBA represents more than 118 brokerage firms. Our members represent both residential and commercial specialists, each with an average of more than fifteen years experience in real estate.
Affiliate membership is open to a select number of service providers in mortgage and banking, title insurance, property and errors & omissions insurance and other real estate service fields. Affiliate members keep REALTOR® members updated on changes in their fields and actively participate in HIREBA meetings and events.